2019...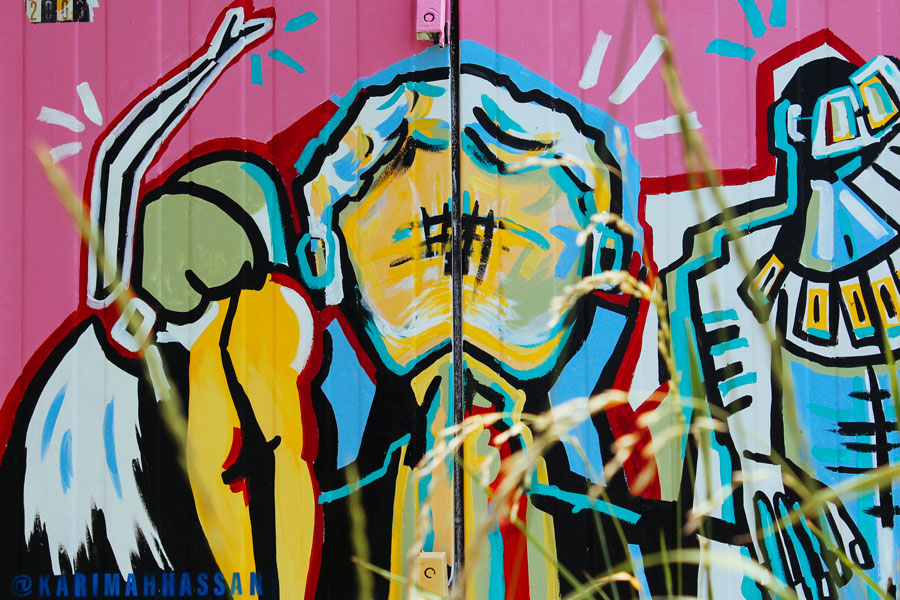 Comissioned Murals
London, Torono, New York
Street Art
2018 - 2019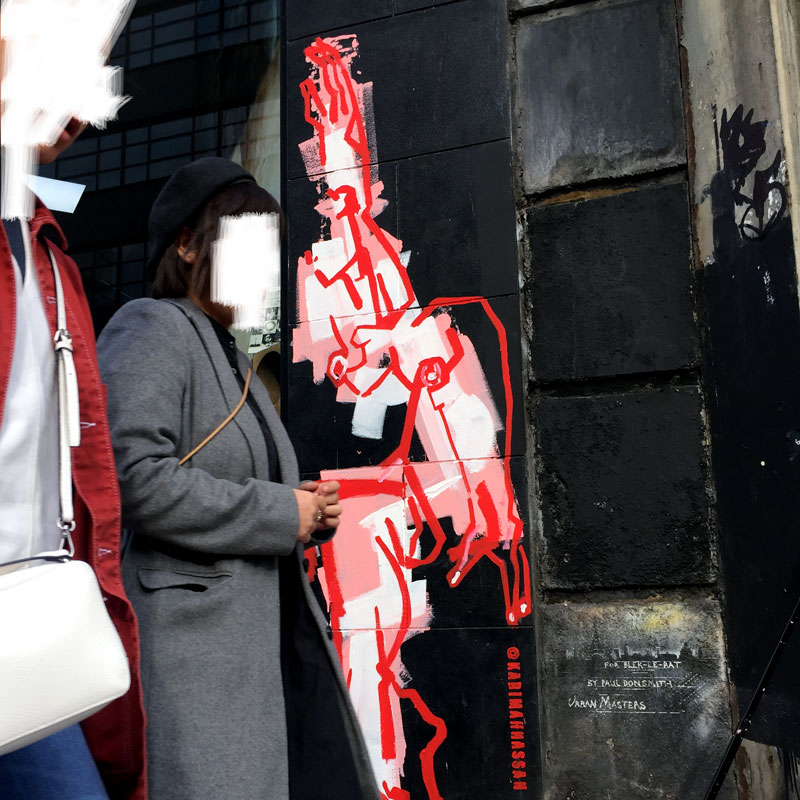 From story to the canvas to the city: These images represent the final step in a process that I've developed to take an art project full circle, from being inspired by the people I meet on the street to eventually finding a permanent home in the street.

It goes a bit like this – I find my way, somehow, into a new community. The figures I paint are inspired by the people I meet in the street/ at life drawing sessions or in dance classes. The early sketches that I make form the backbone of my paintings.

Working from a studio, I develop those sketches into larger paintings. These


paintings eventually find their way in a gallery and provide the financial support I need for the next stage of the project.

I use the money generated from selling the 'fine-art' paintings, to finance free public murals/ displays. I partner up with a local business and offer my service - I go through my sketches and partner a person's narrative to that particular location.

As an act of respect – the people's faces, and names remain anonymous.

Painting Series
Torono
Exhibition
2019
'Painting the homies and heroes I wish my younger self could have seen'.
Inspired by stories of creative struggle within Muslim,
ethnic communities, 'Strangers in My Blood' is a series of paintings showcasing contemporary creative talent.
From grime artists, to FIFA referees and Fashion designers, each subject in this collection redefines what it means to be a 'millennial Muslim'.
INFORMATION
"My intention is to showcase the subject and the community that they represent. I believe it's important to shine a light on the spaces in London where we can come together, to simply 'be' and create.I aim to inspire my audience to explore places and spaces where they can find a sense of belonging."
A visual artist with an expressive and bold aesthetic, I am known for 'taking stories full circle, from the canvas to the streets'. An architect by trade and a painter by profession, I'm interested at the intersection of art, place making and community engagement.

By documenting London's 'DIY community gatekeepers' as abstract figure paintings both in galleries and on commissioned walls, I capture London's dancers, poets, musicians, athletes and trailblazers who may otherwise go unnoticed.


" Karimah takes stories full circle, from the canvas to the streets."


A pivotal aspect of my practice involves hosting 'community showcase teasers' under the disguise of an exhibition. In a curated line up, I exhibit paintings alongside poetry readings, open-mic sessions, live jazz and even football matches. In this way, I combine the artwork, the painting subject, and community members together in one space.

SOLO SHOWS
-2019 - Cafe Pamenar "Stranger in My Blood" Toronto, CA.
-2019 - Unit 31 "Moving to True North" London, UK.

GROUP SHOWS
-2018 – Con Artist Gallery "Residence Showcase" New York City, NY. USA.
-2018 – SK Artspace Gallery"The Future is Female" Brooklyn, NY. USA.
-2018 – Chinatown Soup Gallery "Cooties Collective" New York City, NY. USA.
-2018 – Con Artist Gallery "Abstraction" New York City, NY. USA.
-2018 – Iang Gallery "Contemporary International Ink Design" Seoul, S. Korea.
-2017 – The Black and White building "Creative Debuts - Emerging Artists" London, UK.
-2016 – Royal College of Art "Mediations - Art and Design Agency" London, UK.
-2016 – Beijing Industrial Design Centre "Beijing Design Week, International Exhibition of Ink Painting" Beijing, China.
-2015 – Aqua Gallery "International showcase Kyoto University of Art & Design" Kyoto, Japan.

WORKSHOPS
-Mural Artist & Youth Workshop Facilitator
Artolution (2019, New York)
-Creative Leadership Workshop Facilitator
Panasonic & The Helen Hamlyn Centre for Design (2018, London)

EMAIL
INSTAGRAM