Crxss Platfxrm Commission
This autumn we sat down as part of an online series The Culture' to get an amazing insight into her creative mind which blew me away.
We also collaborated on a new work cross-pollinating fine art and dance to create an immersive performance art piece at NSF CRXSS PLATFXRM festival in Peckham which was supported by Arts Council England, NSF Group and the infamous Nike.

Karimah's courageous approach to her work is something that is really exciting and something that myself and CRXSS PLATFXRM believe in and will continue to support.
Comissioned Murals
London, Torono, New York
Street Art
2018 - 2019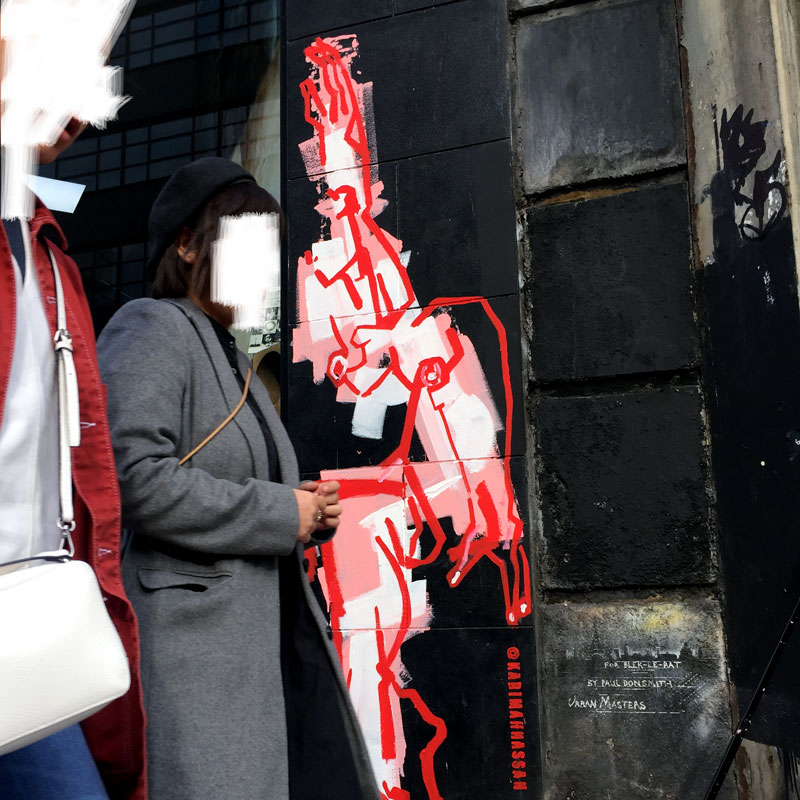 From story to the canvas to the city: These images represent the final step in a process that I've developed to take an art project full circle, from being inspired by the people I meet on the street to eventually finding a permanent home in the street.

It goes a bit like this – I find my way, somehow, into a new community. The figures I paint are inspired by the people I meet in the street/ at life drawing sessions or in dance classes. The early sketches that I make form the backbone of my paintings.

Working from a studio, I develop those sketches into larger paintings. These


paintings eventually find their way in a gallery and provide the financial support I need for the next stage of the project.

I use the money generated from selling the 'fine-art' paintings, to finance free public murals/ displays. I partner up with a local business and offer my service - I go through my sketches and partner a person's narrative to that particular location.

As an act of respect – the people's faces, and names remain anonymous.

Painting Series
Torono
Exhibition
2019
'Painting the homies and heroes I wish my younger self could have seen'.
Inspired by stories of creative struggle within Muslim,
ethnic communities, 'Strangers in My Blood' started in 2019 as series of paintings showcasing contemporary creative talent. The project has since progressed into a year long venture
get involved here.
From grime artists, to FIFA referees and Fashion designers, each subject in this collection redefines what it means to be a 'millennial Muslim'.